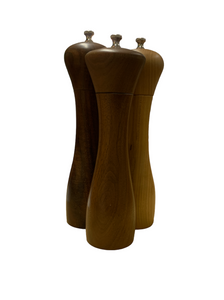 Y KNOT WOOD TURNING
Y Knot Large Mills
Regular price
$110.00
$0.00
Unit price
per
It is important to note that the silver knob on top of the salt or pepper mill should not be over-tightened. Over-tightening the knob will prevent the grinding mechanism from working. For pepper mills – the silver knob is used to adjust the grind from fine to coarse. Just turn the knob slightly one way or the other to adjust the coarseness of the grind. Salt mills can not have the grind adjusted, they only have a fine grind setting. Pepper mill mechanisms are stainless steel. Salt mill mechanisms are ceramic (to prevent corrosion). Both are made in the USA and are guaranteed for life.

To add peppercorns or coarse salt:
Unscrew silver knob
Remove top portion 
Fill (a funnel will help) 
Replace top portion
Screw on silver knob – and don't over-tighten
To clean, simply wipe with a damp cloth. A light coat of walnut oil can be applied if desired, but isn't usually necessary.
---
Share this Product
---